This is the homepage of Creator's Computer Clinic
Working in partnership with educational institutions and industry to make Teaching, Learning, Training, service delivery and Electronic Records Management more interactive, learner centered and efficient.
Our Background
It began as a voluntary Youth Organization in Sekondi (in Western Region of Ghana) in August 1999, where it operated in collaboration with the National Youth Council, Sekondi, Ghana till 2001.
Our Vision
To be Ghana's favourite company that uses ICT to enhance
Academic Teaching/Learning and Employee Training and Development
Our Mission
To collaborate with stakeholders of Education and Industry to make Teaching/Learning
and Training more interactive and learner centered. We achieve this by developing
moderately priced, easily accessible curriculum related and customized Computer Based
Learning materials and training programs
Our Philosophy
We believe that every human being, irrespective of gender, religion, geographical
location, tribe, race or nationality, has creative potentials and the ability to live a
productive life, overcome surmountable challenges and help develop their environment
when provided with relevant resources and an enabling setting.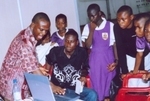 Our Motivation
Providing resources and services that empower young people to study effectively, identify themselves, persue professions that have direct bearing on their potentials and impact their environment positively.