Our Products
This page has information about some of our main products developed and published.
Computer Based Teaching/Learning materials based on GES syllabus
1. Softmaths for JHS 1, 2 & 3 Mathematics
2. SoftScience – Electronic workbook for JHS 1 Integrated Science
3. SoftICT V1, V2, V3, V4 - for JHS 1, 2 , 3 and SHS ICT

SOFTCLIPS – VOL. 1 with Handbook
This is a program that has been designed specifically for people who do not possess basic computer literacy skills. You have the opportunity to acquire basic computer literacy skills in less than twenty-four (24) hours.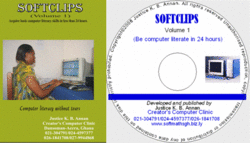 SoftEnglish_TK (New)
This is an interactive electronic study companion for everyone. It has very vital information on English grammar, essays, vocabulary, phrasal verbs, idioms, and a mini encyclopedia.
SOFTCLIPS – VOL. 2 with Handbook
This software has been designed to assist users who have already acquired basic computer literacy skills to master advanced techniques in Word Processing (MS Word), Data entry and analysis (MS Excel) and effective presentation skills (MS PowerPoint)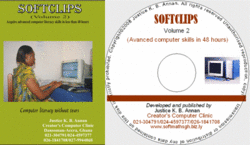 Electronic Learning materials for revising BECE past questions
Basic Education Certificate Examination (BECE) paper 1 interactive past questions on CD for Social studies, Integrated Science, English, Mathematics, RME & French

Electronic Learning materials for revising WASSCE Past questions
For Core Maths, Core English, Integrated Science, Social Studies & Elective Mathematics

ICT Workboks 1, 2 & 3 based on GES syllabus
Well researched and reliable workbooks covering all the topics in the GES approved JHS ICT syllabus.