Our Services & Collaboration
Our Services
School E-Learning Implementation to improve teaching and learning
We install over 22 relevant educational software for teaching & learning based on the GES syllabus and WAEC BECE/WASSCE past questions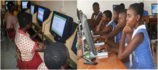 Teacher Professional development training and ICT skills acquisition workshops
We empower your teachers to use innovative strategies to inspire your students to achieve excellence.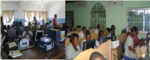 Computer Based Test Administration
We give your students exposure, global experience and help you to reduce the cost of printing and marking paper based objective tests.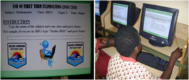 OUR COLLABORATION WITH GHANA NATIONAL ASSOCIATION OF PRIVATE SCHOOLS (GNAPS
Our collaboration with GNAPS, over the years, has been mutually beneficial. We have trained several teachers, especially, Mathematics, Integrated Science and ICT teachers and administrators, assisted schools to deploy ICT, and helped several teachers to be more professional and commit themselves to raising the reputation of their schools and empower their students to excel. We are happy about working together with GNAPS (Greater Accra, Eastern, Central, and Western) and hope to extend our services to the other regions in Ghana.